Some brief thoughts on some movies I've watched recently.
3 Women
- What the fuck, dude? I got this for X-mas. It had been on my wishlist ever since Criterion announced it because it has two of the weirdest looking women ever (Shelly Duvall and Sissy Spacek) and the description I read of the film included the words "chilling" and "surreal". So, yeah, that sounds pretty awesome. Let's pop it in.
Sissy Spacek starts her first job at a rehab clinic for old people. Shelly Duvall is already employed there and shows her around. Shelly Duvall is one of those people that is extremely confident, self-assured and know it all for no apparent reason. No one seems to like her. People ignore her while she's talking to them and barely even acknowledge her presence. When they do acknowledge her, it's usually with disdain. Sissy, though, latches on to her like a lost puppy. Eventually, they move in together, even though Shelly doesn't seem too pleased with her. Sissy keeps fucking things up, as Shelly sees it. Things come to a head, Shelly starts yelling, and Sissy decides to take a swan dive off the balcony of the apartment complex. And that's when shit starts to get really weird.
Apparently inspired by a dream Robert Altman had while his wife was in the hospital, everything I've read about this movie since watching it makes me feel a little bit better about feeling like a lot of it went over my head. There's a lot of imagery and repeated actions that
feel
like they mean something, but I have no idea what. Surreal is an excellent word to describe it. I plan to listen to Altman's commentary on the film sometime soon, but I get the feeling it won't answer a lot of questions. Apparently, this is a movie he intended for the audience to "feel rather than understand". In that, he succeeded. It's a crazy, WTF head trip. I liked it. I'm just not sure how much.
Bedevilled
- Still waiting for this to show up in the US, so last time I was at Amoeba I pounced on a bootleg. Had to wait until The Lady was out of the house to watch it.
Hae-won is a bitch. She works for a bank, approving loans. She treats people like crap and after slapping one of her co-workers (for doing something the co-worker didn't actually do) in the middle of the office in front of customer, her boss puts her on a mandatory vacation. Hae-won decides to spend it on the remote island where she grew up and her childhood friend Bok-nam still lives. The island is so remote and undeveloped that there are something like 9 people on it and it takes a couple hours to get to by boat.
Upon arriving, the focus of the film slowly shifts to the friend, Bok-nam. We see her being mistreated and abused by everyone, especially her husband and his mother and brother. She seems to try to put up with it for the sake of her daughter, though, and tries to keep a happy face when Hae-won is around. It gets to be too much for her, though, and she asks Hae-won to help her escape the island with her daughter. Hae-won refuses and even accuses her of making stuff up in order to gain sympathy. Bok-nam tries to escape anyway, but is caught. And from there on, shit gets fucked up. Bok-nam snaps, grabs a scythe and decides to murder everyone on the island. It's not going to be easy, though.
It's a pretty fucked up, slow-burn of a movie. The director spends a
lot
of time giving you reasons to hate pretty much every character other than Bok-nam and her daughter. So that when the violence finally starts, you are fully on Bok-nam's side. To the point where I was a little disappointed that a couple of the killings weren't gruesome
enough
. At times, it gets a little too ridiculous, but overall I'd say that if you're at all into violent horror cinema, this is definitely one to watch.
Wait Until Dark
- I bought a used copy of this at a Blockbuster or Hollywood Video going out of business sale. I remember seeing it on a list of scariest movies somewhere and my dad told me it was really creepy, so I picked it up. Audrey Hepburn plays a blind lady, who lives in an apartment with her husband in New York. At the airport coming home, her husband is handed a doll (filled with heroin) by a stranger who asks him to hold it for her. The doll, though, belongs to Alan Arkin. And he wants it back. He's convinced that it's somewhere in the apartment, so he and two guys he hires begin a plot to try and get it out of the apartment. Since Audrey is home, they are forced to resort to an elaborate deception.
I enjoyed this movie pretty thoroughly except for one thing: Audrey Hepburn. She was annoying as shit. She did a good job acting blind, but she was so shrill and was constantly over-excited. Anytime anything happened, she would gasp or cry out. I can honestly say I don't know if I've ever seen any other movies of hers, so I don't know if it was her or it was the character, but... man... Everything else about the movie I really liked, though, and the last 20-30 minutes are especially intense and well done, even with Hepburn's over-acting. Alan Arkin makes a really excellent, cool bad guy. And the film managed to be interesting and compelling even leading up to the finale.
I'd recommend it as worth a watch, but probably not a buy.
Rubber
- A movie about a killer tire. Sort of. It was really fucking weird. As I watched, I was pretty fascinated with it. It's different from anything I've seen before. It has some funny parts and I really liked the opening and the ending, as well. Having said that, it was not a very good movie and I don't think I care to ever watch it again.
Bigger Than Life
- I had a hard time getting started on this. I think it took 3 or 4 tries. Partly because the channel I DVR'd it on isn't in HD and partly because of the way it opens. It's starts off so sticky sweet, Leave It To Beaver, happy 50's family, that I wondered if I could actually enjoy it, even after having read the synopsis and skimmed some of the overwhelmingly positive reviews on IMDB. I just wasn't sure. But I decided to just sit down and work through that shit last night, and I am really, really glad I did.
James Mason plays Ed, a schoolteacher who takes a second job working for a cab company. Rather than tell his wife about the second job, he lies to her and actually lets her think he might be having an affair because he thinks that would be less upsetting! Their lives are dull (by his own admission) and boring until he is hit with a rare illness that threatens his life. In order for him to survive, the doctors put him on an experimental drug called cortisone, which magically cures him as long as he takes it everyday for the rest of his life. Ed gets addicted to the pills and starts taking well more than the prescribed dosage, causing him to go psychotic. He starts telling the parents of his students that their children are morons, making his son go without food until he can solve math problems that he makes up and he lashes out at his wife, calling her an imbecile and saying he doesn't consider her to be his wife anymore. His wife is terrified, but unwilling to do anything about it other than hope he comes out of it for fear of what other people might think. This builds all the way up to Ed deciding that "God was wrong!" when he called off Abraham's sacrifice of his son, Isaac, and proceeds to head towards his son's room with a pair of sharp scissors.
It's a fascinating movie. It feels like a subversive jab at the Way Things Were in the 50's. There are a few reviews on IMDB from people who say that they had parents that were exactly like this. I can't imagine what it must have been like to see this movie back when it came out, how upsetting it probably was for people who saw it. The fact that I'd never heard of it, and it was unavailable on DVD, until Criterion released it early last year makes me wonder if people back then were, like the mother in the film, just unwilling to confront or discuss the things that were going on.
It's a really excellent movie, and I recommend it highly.
Justified: Seasons 1 & 2
- Finally got caught up, in plenty of time to be ready for season 3 in a week or so. Timothy Olyphant plays a cowboy marshall forced to work in Kentucky, where he grew up after he finally shoots one too many bad guys instead of arresting them. And, of course, a large number of people he knew and associated with in his younger days are still in the town he grew up in and many of them have taken to illegal activites.
I was a little disappointed with season 1. I liked it, and I love watching Timothy Olyphant, but it never really clicked for me. Season 2, though, I loved. I thought it was much more interesting and intense. I love the moral ambiguity you see in so many of the characters and how you never really know which way things are going to go. The Bennet family is/was an especially good antagonist, I thought. I have high hopes for Season 3.
I should also mentioned that The Lady watched bits and pieces of it with me and that she told me I should add that she hates TO's ex-wife and keeps rooting for her to get shot, and that she has trouble following the story sometimes because "all the bearded white people look alike". I should mention, she is either not around or not paying attention most of the time while I've been watching it, which would make it nearly impossible to follow what's going on. And that she "was starting to like" Timothy Olyphant's character until the episode with the counterfeit money and his ex-wife happened. And now she just talks about men being stupid around vaginas. Which there is probably some truth to.
Haywire
- Gina Carano is an assassin, who is betrayed by her employer (Ewan MacGregor) and has to fight her way through Michael Fassbender and other assorted thugs to find out why and make it stop. It's a plot that's been done to death, but it's also one that works really well because it's so simple and it allows the story to get the fuck out of the way so people can beat the shit out of each other. Steven Soderbergh is a director that's really hit or miss with me. Some of his stuff I like a lot (
Traffic
,
The Limey
,
Solaris
) and stuff I don't much care for at all (
The Girlfriend Experience
,
Ocean's Eleven
movies), so I went into this one with cautious optimism.
There were a lot of things to like about this film, but mostly I thought it was good, but not great. The really important stuff was great: Gina Carano and the cast did a really good job and the action was excellent. Really, my only beef with the film is that there was too much plot and not enough action. This isn't normally an issue, and the plot was done well (maybe a little overly complicated), but... man, there's one thing I'd bet most people wanted to see when they went to see this movie and that was Carano kicking people in the face. It's great that there are layers of deceit and betrayal. Fine. But the gaps between action sequences sometimes just felt too long.
It was also, and I know how this sounds coming from me, a little too artsy at times, most notably during the climactic fight scene on the beach. The camera angle is changed way too often to show pretty, scenic shots of fists hitting face from far away so that the sunset and the waves can be seen. It looked really nice, but it disrupted the action flow for me.
Having said all that, I still enjoyed the movie and would watch it again. The fight sequences are definitely worthwhile, and I give Soderbergh props for doing them right. Similarly, it looked like Michael Fassbender did most of his own fighting and held his own really well, which was also a big plus. Sometimes, a film will hide the fact that it's not the star of the movie doing the actual fighting or not fighting very well with a bunch of quick, jump cuts that don't let you see all the action. It's a HUGE pet peeve of mine, so I was really happy that they didn't do that.
Carano didn't really have to do a whole lot of dramatic acting, but she held her own just fine in the non-fight parts of the movie, too, and I am still on the Carano For Wonder Woman street team.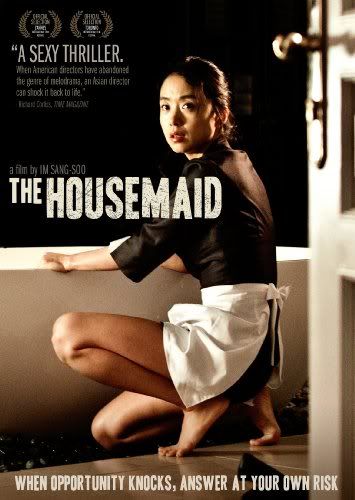 The Housemaid
- Im Sang-soo is a director I'm not too familiar with, but this movie stars Jeon Do-yeon, who I know from her fantastic performance in a movie called
Secret Sunshine
(that
Criterion released out here last year
). She was good enough in that that I'd watch pretty much anything she's in, so when this came across Sundance Channel, I jumped to the record button even though it wasn't in HD (which needs to change ASAP). Jeon plays a poor young lady named Li who takes a job as a maid and nanny for a super rich couple in Korea. After a little while, she starts having an affair with the husband. The wife and her mother find out about the affair when the older maid realizes Li is pregnant (even before Li does) and tells them. And ain't nobody too terribly happy about it.
Despite a bit of an over-dramatic and unreasonable ending, I liked this movie. The director did a really good job with the tension and suspense and Jeon Do-yeon was really great again. The film was really pretty to look at, the music was great and even though none of the characters are very likable (except the couple's young daughter), the performances were good. I don't think I'd buy it, but I wouldn't be opposed to watching it again.
Isolation
- On a remote farm somewhere in Ireland, two scientists have been doing some sort of genetic experiment on cows. The experiment goes horribly wrong, of course, and when the cow under study gives (a very difficult) birth to a sick calf who itself is pregnant with... something, well everyone involved is pretty much fucked. I'd never heard of this movie when I came across it on one of the movie channels and I decided to record it after reading a bunch of positive reviews. It's a pretty nasty creature movie and I liked it. Not a lot, but I did. It's plenty gross and if you're into monster movies (and don't have a problem suspending your disbelief with regards to them), then it's well worth a rent. Not a buy, but definitely a rent.
28 Weeks Later
- Hadn't seen this since it was in the theater. Bought a copy on Blu at an FYE store going out of business and decided to watch it because The Lady hadn't seen it and she liked the first one. Oh, and because she has a thing for Jeremy Renner. The film takes place a certain amount of time after the original (bet you can't guess how long after) where the UN, led by US forces is starting repopulate certain areas of the UK after the massive outbreak of infected cannibals in the first movie. The repopulation includes Robert Carlyle's two children who were away on holiday or something and the US forces include the previously mentioned Renner, as well as science officer Rose Byrne, both lead by Idris Elba. When I first watched this movie, I think Robert Carlyle was the only name I had been familiar with at the time.
The movie is quite a bit different in tone and style from the previous film, focusing more heavily on actual gore and horror from the infected, rather than from other humans. The opening scene is by far the most memorable moment of the film, but the rest of it ain't half bad at all. The director, Juan Carlos Fresnadillo, has only done one film since directing this in 2007; A Clive Owen movie called
Intruders
that came out last year and that I know almost nothing about, but hope shows up on a movie channel at some point. It's not a great movie, but it's a good one and a solid zombie flick.
The Clinic
- I watched this on the DVR last night, having recorded it after seeing it in the top 10 list of one of the Bloody Disgusting writers. I don't remember which writer or how high they ranked it, but I hope it wasn't too high. Cameron (played by the recently deceased Andy Whitfield) and his pregnant wife Beth stop at a motel in the midst of an Australian cross country car ride. That night, Cameron leaves to go do something and comes back to find his wife missing. His wife wakes up in an abandoned warehouse in a bathtub full of ice, no longer pregnant and with a scar on her belly. She comes across four other women in the same situation. The five them start trying to figure out where they are and why this has happened to them.
I didn't really care for this one. Some of the violence/gore was pretty good and it wasn't an outright
bad
movie, but it was a little bit silly at times and the reveal/reason it was happening wasn't anywhere near as clever or surprising as I thought they thought it was. Not really even worth a rent, in my opinion.
Melancholia
- FINALLY sat down and watched this last night because The Lady was pre-occupied. I'm a big Lars Von Trier fan, and I felt bad about missing this in the theater, but once I saw it was playing on HDNet Movies, I just wasn't going to spend the money on a theatrical screening. Kirsten Dunst is a bi-polar manic depressive who happens to be getting married at her sister (Charlotte Gainsbourg) and brother-in-law (Kiefer Sutherland)'s place, a huge mansion overlooking the ocean with an 18 hole golf course. Kiefer is super super rich. So, being that Kirsten is bi-polar and manic depressive (which is my assumption, and is never actually stated in the movie), she swings to both extremes during the course of her wedding which, as you can imagine, causes considerable anxiety for her new husband and her sister. She mopes, she dances, she runs off and hides in a room without telling anybody, she smiles for pictures. The first half of the movie is basically her swinging back and forth (but mostly back) and everyone else just trying to deal with it and her without ruining her big day. Oh, and apparently, there's a whole nother planet that's been hiding on the opposite side of the sun forever that is not only in view now because of it's weird orbit, but is actually going to come extremely close to earth. Some say it might even collide with it...
Lars Von Trier probably holds the record for movies that I don't know quite how to feel about after I watch them the first time. Sometimes, I love them immediately, but usually I have to really think about it for a while or maybe even watch it again (I STILL am not quite sure how I feel about
Dogville
). His stuff is just different and the way he tends to present things can be a bit baffling, but I usually end up liking them. I'm still not sure how I feel about this one yet, either, but I think I'm leaning more towards not liking it so much.
There are a lot of things I really liked about it. I love the whole thing with the new planet and I love a lot of the ways in which the characters deal with the entire situation. If that was it, that was all there was to it, I think I would have loved it. But the whole first half of the movie, with Kirsten Dunst being nuts... I don't know. The cinematography is fucking fantastic and Udo Kier's very small role (probably less than a minute of full screen time) is hilarious and probably the best thing about the movie, but I'm not sure what the point of the Kirsten stuff was.
It's not that the Kirsten stuff was bad, it just seemed like a wholly different story that I don't see the fit for. She did a good job, I guess, but I was actually much more impressed with Charlotte Gainsbourg's performance and that of the rest of the supporting cast (John Hurt, Stellan Skarsgaard, Charlotte Rampling, Kiefer, etc). I don't really have any desire to watch it again, but I wouldn't be against doing so for the sole purpose of seeing if I felt any different about it.
Tags: movie reviews